New! Whole Grains, Empty Promises: The Surprising Truth About the World's Most Overrated 'Health' Food
Examines the pervasive belief whole grains are both healthy in general and healthier than their refined counterparts.
The verdict? No they're not. And the foundation upon which the belief that whole grains are healthy is built will shock you!
In Whole Grains, Empty Promises you'll learn that you may be giving yourself arsenic poisoning with all that brown rice you've been eating, depleting your body of valuable minerals with your whole grain bread and porridge, and otherwise torturing your bowels and taste buds with spoonful after spoonful of empty promises.
Read Whole Grains, Empty Promises and decide for yourself if whole grains are really all they're cracked up to be.
Get instant access to the ebook version here
($2.99).
The Fat Loss Bible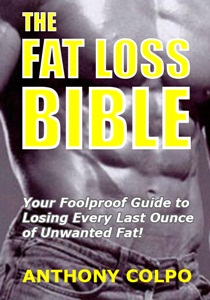 Widely hailed as "the best fat-loss book ever written", this super-precise guide takes all the guesswork out of getting shredded.
Get instant access to the ebook version here
($9.99).
To order a paperback version, click here ($19.99)
The Great Cholesterol Con
The acclaimed book that explains why cholesterol and saturated fat do not promote heart disease – and what really does.
Get instant access to the ebook here
($9.99).
To order a paperback version, click here ($25.99)