Dan Hoyt is a raw vegan fanatic who achieved semi-fame when he and his ex-wife opened New York's first raw-food restaurant, Quintessence, in 1999. The small eatery became so popular lines formed out the door, and celebrities Woody Harrelson, Crispin Glover, and Lou Reed reportedly ate there.
However, Hoyt would later achieve much greater notoriety for engaging in one of his other longstanding passions: Exposing himself and masturbating in public.
His luck ran out when one of his female victims photographed him on a subway train in the midst of one of his creepy displays and posted the picture online. Hoyt was subsequently identified and convicted of public lewdness (as it turns out, he'd had a similar conviction in 1994).
When New York magazine caught up with him in 2006, however, he appeared unrepentant. Hoyt told New York that if only he and the victim had met under different circumstances, she might really like him. "You know, she'd go, 'That guy's pretty cool. He's got this restaurant, and he's fun,'" Hoyt says. "She'd probably want to go out with me."
Right. Because it's every girl's dream to go out with a convicted wanker.
But the story doesn't end there. Oh no.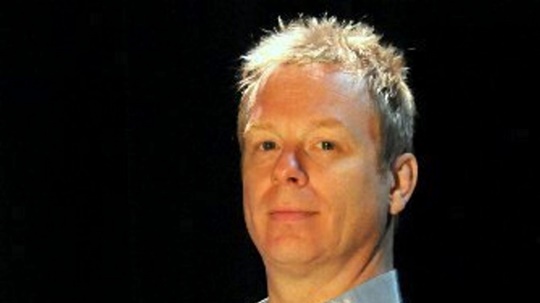 Ex-vegan restaurateur and serial subway creep, Dan Hoyt.
Hoyt reportedly struck again in 2008, and was arrested yet again in January of this year after exposing himself on three occasions in Manhattan.
In the most recent episode, Hoyt, now 53 and living in the East Village, approached a 25-year-old victim shortly after midday on the downtown platform of the 8th Street subway station, police said.
He asked if he could masturbate in front of her, and then pulled down his pants when she said no. The victim, who was not injured, called 911. She met the police officers, who began searching for the suspect.
The police found Hoyt on the south end of the downtown platform staircase. The officers struggled with him briefly, and then took him into custody, police officials said. He was arrested on charges of resisting arrest, harassment, and public lewdness.
Police officials said he had also been linked to two sex offenses that the Manhattan Special Victims Unit had been investigating at the 8th Street station and Union Square at the beginning of the year.
On New Year's Day, he exposed himself to a 24-year-old victim at the 8th Street station, police officials said. On January 2, he allegedly followed a woman onto the train at Union Square, and rubbed himself against her leg.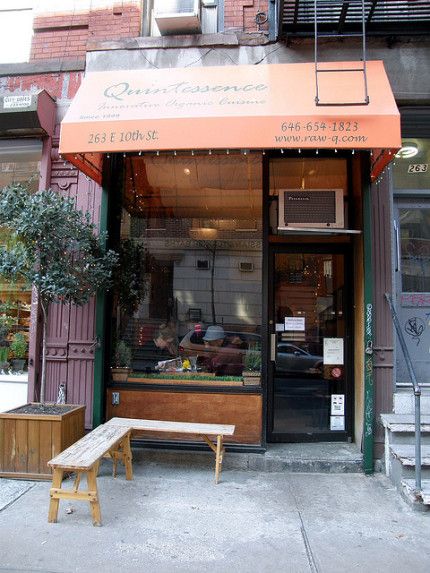 Quintessence, the New York restaurant started by Hoyt.
Hoyt is by no means the only New York vegan ex-restauranteur to fall foul of the law this year.
Fraudulent Vegan Restaurant Owners Caught After Year on the Run
A fugitive vegan restaurateur who allegedly failed to pay her workers and stole from investors finally faced a judge — and her former employees — in Brooklyn court Thursday.
Raw foodie Sarma Melngailis was caught in Tennessee and extradited back to New York to face a 24-count indictment after spending nearly a year in hiding.
Detectives tracking Melngailis and husband Anthony Strangis, who is also facing charges, were tipped off by a Domino's Pizza delivery.
Melngailis, 43, was the owner of the now-closed Gramercy vegan restaurant Pure Food and Wine and One Lucky Duck juice bar in the Chelsea Market. Melngailis' eatery had been popular among such A-list juicers as Katie Holmes, Alec Baldwin and Woody Harrelson.
She failed to pay workers more than $40,000, stole $844,000 from four investors and failed to pay $400,000 in taxes, prosecutors said.
"She left, stopped answering her phone, emails or text. The investors sued her and she didn't respond … She still remained in hiding living a lifestyle untethered from reality," said Assistant District Attorney Meredith McGowan, who requested $1 million bail.
The pair also allegedly went on a $2 million spending spree with company money, blowing the loot on luxury travel and gambling benders at Foxwoods and Mohegan Sun Casinos.

Melngailis (above) and Strangis (below).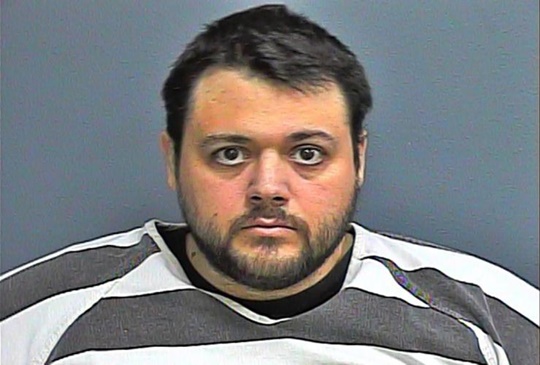 Melngailis "lied" to investors by telling them Strangis was a "wealthy businessman interested in taking over the business," prosecutors said. She allegedly gave him different aliases, including "Michael Caledonia."
"There's so much fraud and deceit, there's no way she didn't know she was doing something wrong," said Benjamin N. Dictor, the attorney representing 20 of the workers in a Brooklyn federal lawsuit.
Former employees of Pure Food and Wine vegan restaurant cheered to see their ex boss facing charges in Brooklyn's State Supreme Court in Brooklyn.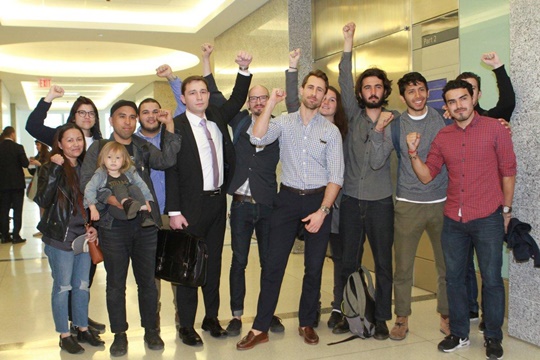 Former employees of Sarma Melngailis celebrate her arrest.
Melngailis was a closet meat-eater, former employee Caetano Laprebendere, told the New York Post. He thought it was hilarious that she was undone by a take-out pizza.
"She is well known among the employees for not being vegan," Laprebendere said.
She'd utter such vegan blasphemies as, "It's OK to eat meat once in a while," he said. She also sneaked honey — apparently the product of oppressed worker bees — into some of the dishes at Pure.
Melngailis was granted $350,000 bond or $150,000 cash bail.
Outside of court, Dictor said Melngailis' actions were indeed criminal.
"It is a criminal violation to commit wage theft, a lot of business owners don't know that it's illegal and that you're committing a crime when you steal or don't pay wages to your employees," said Dictor.
Strangis — accused of helping to trick investors and spend the stolen money — was ordered held in lieu of $300,000 bail. He immediately turned on his wife, telling the judge through defense lawyer Samuel Karliner, "It would appear Mrs. Melngailis was the one who ran this business and drove it into the ground and withdrew all the money."
If convicted, they both face up to 15 years in prison.
Sources:
Smith RS. Onan The Vegetarian. New York, Apr 3, 2006. Available online: http://nymag.com/news/features/16576/ (accessed May 26, 2016).
Harshbarger R, Salazar C. Dan Hoyt, raw food chef, arrested again for subway lewdness. am New York, Jan 13, 2016. Available online: http://www.amny.com/transit/dan-hoyt-raw-food-chef-arrested-again-for-subway-lewdness-1.11322504 (accessed May 26, 2016).
DeGregory P, Italiano L. Angry workers witness vegan restaurateur facing 'justice'. New York Post, May 19, 2016. Available online: http://nypost.com/2016/05/19/angry-workers-witness-vegan-restaurateur-facing-justice/ (accessed May 26, 2016).
Carrega-woodby C. Fugitive vegan restaurateur Sarma Melngailis finally faces judge — and her former employees — in Brooklyn. New York Daily News, May 19, 2016. Available online: http://www.nydailynews.com/new-york/nyc-crime/fugitive-vegan-restaurateur-sarma-melngailis-faces-brooklyn-judge-article-1.2642971 (accessed May 26, 2016).
---
Anthony Colpo is an independent researcher, physical conditioning specialist, and author of the groundbreaking books The Fat Loss Bible
, The Great Cholesterol Con
and Whole Grains, Empty Promises.
For more information on Anthony's books, click here.
---
The Mandatory "I Ain't Your Mama, So Think For Yourself and Take Responsibility for Your Own Actions" Disclaimer: All content on this web site is provided for information and education purposes only. Individuals wishing to make changes to their dietary, lifestyle, exercise or medication regimens should do so in conjunction with a competent, knowledgeable and empathetic medical professional. Anyone who chooses to apply the information on this web site does so of their own volition and their own risk. The owner and contributors to this site accept no responsibility or liability whatsoever for any harm, real or imagined, from the use or dissemination of information contained on this site. If these conditions are not agreeable to the reader, he/she is advised to leave this site immediately.