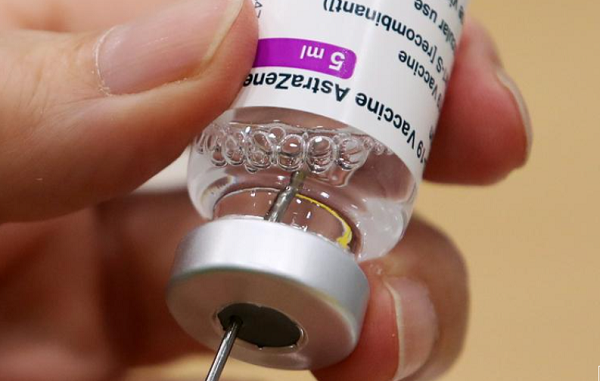 Double-blind, placebo-controlled data has finally been published for the Oxford-AstraZeneca COVID-19 vaccine - and it shows the vaccine does not prevent infection with the "South African variant" of COVID-19.
But before I describe this new data, some quick background info is in order.
AstraZeneca currently has numerous clinical trials in progress around the world for its troublesome vaccine, which it has code-named "ChAdOx1" and "AZD1222."
Clinical testing for new drugs is supposed to comprise of three primary phases. Phase 1 involves small "tolerability" studies that examine the drug's safety at various dosages in healthy volunteers. Phase 2 trials are small studies that tentatively examine the effects of the new drug in people with the condition the drug is intended to treat.
If all goes well with Phase 1 and 2 studies, then double-blind Phase 3 trials are commenced to examine the effect of the drug at preventing or treating the targeted condition. Unlike small Phase 1 and 2 studies, which often contain less than 100 subjects, Phase 3 trials are typically much larger undertakings that often involve thousands of participants.
However, the sociopathic powers-that-be have decreed that a novel flu virus with an infection fatality rate of less than 0.5% justifies a complete disregard for this normal sequence of clinical testing.
Yes, in the new abnormal, it is now perfectly okay to give a novel drug "emergency use authorization," even though Phase 3 trials have barely begun! In the case of ChAdOx1, the criminal enterprise known as AstraZeneca hasn't even finished its Phase 1 and 2 trials, yet the drug is now being administered to millions of unsuspecting people around the world!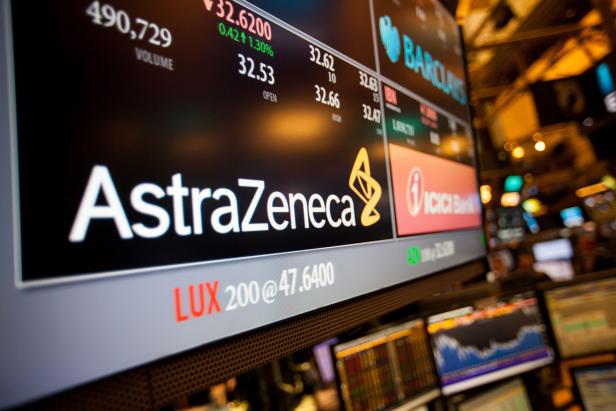 But that's okay, because when this reckless approach inevitably results in a frighteningly high rate of adverse event reports, just keep telling the public the new drug has been thoroughly tested (!) and proven Safe and Effective!™
Even though this is sheer nonsense, most of the public are dumb, gullible, authority-trusting dolts who will believe you. In countries like Australia, for example, the majority of people are so stupid, they will believe what their government tells them about COVID-19 vaccination even though their government is replete with alleged rapists and confirmed sexual degenerates that proudly share photos of themselves playing with ... uh, themselves, and using Parliament House as a venue for coalition MPs to consort with male and female prostitutes. Further underlining what utter scum many federal Australian politicians are, the Parliament House meditation and prayer room is reportedly the favoured "hot spot" for sexual activities in the building.
The current Prime Minister of Australia, Scott Morrison, even proudly and publicly named pedophile defender Brian Houston as his mentor.
Past Morrison achievements include prematurely vacating his position with Tourism New Zealand under heavy criticism, subsequently being fired from Tourism Australia under suspicious circumstances, and allegedly publicly defecating in his pants after his favourite rugby team lost the 1997 grand final - a charge he has failed to refute, despite being given the opportunity. The extent of Morrison's self-soiling was "pretty bad," according to those with knowledge of the incident.
Despite this, or perhaps because of it, this abhorrent human being enjoys a 62% approval rating among Australians. If people think the likes of Morrison and his merry band of degenerates constitute good leadership, then they'll believe pretty much anything government and its compliant media tell them, including the claim that poorly tested and dangerous vaccines have been Thoroughly Tested!™ and are Safe and Effective!™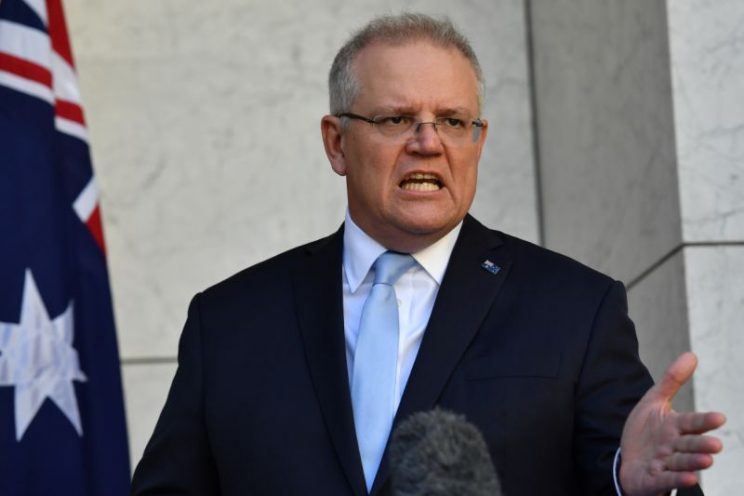 Scott Morrison: Australians love a cold-hearted, insensitive degenerate who gets blind drunk and shits in his pants.
But I digress.
A quick search at ClinicalTrials.gov shows AstraZeneca has a motley mish-mash of "Phase 1/2" and "Phase 3" clinical trials for ChAdOx1 currently underway in the UK, Brazil, South Africa, US, Argentina, Chile, Colombia, Peru, France and Japan.
A non-blinded Phase 3 trial of ChAdOx1 in Russia, meanwhile, has been suspended because of a "Suspected Unexpected Serious Adverse Reaction" in one of the Phase 2/3 arms elsewhere. The study is on hold while the Russian Ministry of Health investigates.
Once again, Phase 3 trials are the kind that are supposed to be successfully completed before a new drug is given approval, but AstraZeneca hasn't even finished its Phase 1/2 trials for its shady new vaccine!
And again, this is all quite okay with our hopelessly corrupt and degenerate authorities.
On 8 December 2020, the Lancet published an "interim analysis" mentioning only four of the current clinical trial arms: One in Brazil, two in the UK, and another in South Africa. And only three of these four were included in the actual analysis.
Incredibly, all but the South African trial were single-blinded - despite the fact nothing less than Phase 3 double-blind trials are normally required in new drug applications. This meant the researchers knew who was getting ChAdOx1 and who wasn't. This hardly inspires confidence in the honesty of the reporting, given that many of the researchers work directly for AstraZeneca or Oxford University, or have financial ties to early co-developer Vaccitech, and therefore have a vested interest in the success of the vaccine.
Further adding to the absurdities, only the South African trial used an inert placebo. The other three trials all used a meningococcal vaccine as the so-called 'placebo.' The researchers unwittingly admitted this was done to produce a similar rate of "local and systemic" side effects among the ChAdOx1 and so-called 'control' groups!
The South African arm - the only one containing an inert placebo and allegedly conducted under double-blind conditions - was omitted from the 8 December 2020 Lancet analysis.
I have explained in detail why this analysis was a complete farce here. Despite the terribly poor quality of research in the Lancet analysis, it was used to justify the drug's approval by UK authorities on 30 December 2020. The drug was subsequently approved on the basis of this same shoddy research in numerous other countries around the world.
The South African Data is Finally Revealed - and it's a Fizzer
On 16 March 2021, data for the South African arm was finally published in the New England Journal of Medicine in a paper titled "Efficacy of the ChAdOx1 nCoV-19 Covid-19 Vaccine against the B.1.351 Variant."
A far more accurate title would be "Lack of Efficacy of the ChAdOx1 nCoV-19 Covid-19 Vaccine against the So-Called B.1.351 Variant of the Absurdly Overblown Wank that is COVID-19."
A little more wordy than the original, yes, but far more on point.
The study protocol accompanying the original Lancet paper states the South African arm is a "phase I/II randomized placebo-controlled trial to determine safety, immunogenicity and efficacy" of the vaccine in South African adults without HIV; and "safety and immunogenicity in adults living with HIV."
The 16 March 2021 analysis published in the NEJM focuses on results observed in the first group: Adults without HIV.
The participants included in the analysis were 2,021 HIV-negative adults aged 18 to less than 65 years of age (median age, 30 years) enrolled between 24 June and 9 November 2020.
In terms of ethnicity, 70% were black African, 15% mixed, 13% white and 2% "other."
Despite 42% of the subjects being smokers, this was nonetheless a healthy study population, with only 2.8% suffering hypertension, 3.1% having a chronic respiratory condition, and a miniscule 0.4% suffering diabetes.
Key exclusion criteria included previous or current laboratory-confirmed COVID-19, morbid obesity (BMI ≥40), and a history of anaphylaxis in relation to vaccination.
The subjects were assigned to receive two doses of ChAdOx1 or placebo (0.9% sodium chloride solution) 21 to 35 days apart. 1,010 and 1,011 participants received at least one dose of placebo or vaccine, respectively.
The primary end points were safety and efficacy of the vaccine against "laboratory-confirmed symptomatic coronavirus 2019 illness" more than 14 days after the second dose.
So What Were the Results?
The researchers claim "Both the pseudovirus and the live-virus neutralization assays showed greater resistance to the B.1.351 variant in serum samples obtained from vaccine recipients than in samples from placebo recipients."
So, in a petri dish, serum from vaccine recipients allegedly showed greater resistance to the new cock-a-doodle-doo B.1.351 variant.
But what did this mean under real life, try-and-prevent-infection conditions?
Nothing.
In the primary end-point analysis, mild-to-moderate COVID-19 developed in 23 of 717 placebo recipients (3.2%) and in 19 of 750 vaccine recipients (2.5%).
In other words, there was no difference.
Importantly, there were no cases of severe disease or or hospitalization in either group.
The researchers did their best to try and make the results look as positive as possible, citing a relative risk "efficacy" of 21.9%.
Which, when considering the way in which relative risk calculations greatly inflate original absolute % figures, is still pathetic.
The figures for the so-called "South African variant" were even worse. Among the 42 participants with COVID-19, 39 cases (92.9%) were allegedly caused by the bogeyman B.1.351 variant; vaccine efficacy against this variant, even when using the more favourable relative risk calculation, was a hopeless 10.4%.
The only way the researchers could get a result approaching the original efficacy figures quoted in their absurd 8 December 2020 Lancet analysis was to chop and change the criteria so severely that they were left with a mere 15 cases falling into the ad hoc category of "Mild-to-moderate illness with onset >14 days after one dose until October 31, 2020, a proxy for non-B.1.351 variant infection."
In this custom category, 12 placebo subjects and 3 vaccine subjects developed "Mild-to-Moderate Symptomatic Covid-19 Confirmed by Nucleic Acid Amplification Test."
This gave a relative risk reduction of 75.4% for which the researchers claimed a confidence interval of 95%. Given the absurdly small figures involved, I would personally assign a confidence interval of "You've Got to be Kidding - Pack this Farce Up Now and Go Home."
Try as they might to reduce the patheticness of the results, the researchers nonetheless had to admit "A two-dose regimen of the ChAdOx1 nCoV-19 vaccine did not show protection against mild-to-moderate Covid-19 due to the B.1.351 variant."
And Side Effects?
Adverse event data through 15 January 2021 were included in the NEJM report. The researchers claimed "The incidence of adverse events and serious adverse events was similar among vaccine and placebo recipients."
This adverse event figures were listed in the supplementary appendix. Two deaths occurred in the placebo group, unrelated to COVID-19. The researchers claimed 1,167 adverse events in the placebo group, and 1,080 in the vaccine group.
They claimed 13 serious adverse events in the placebo group, and a mere 14 in the vaccine group.
The study claimed one "embolism and thrombosis" (blood clotting) event in each group.
Do I trust these figures?
No, and for the following reasons:
Questionable relevance: They emanated from a trial in which the participants were carefully screened to exclude those with preexisting health problems and past anaphylactic reactions to vaccines.
Intertwining vested interests: The drug's sponsor, AstraZeneca, is a criminal outfit that has amassed $1.8 billion in fines and settlements for dishonesty offences since its formation in 1999. The Bill & Melinda Gates Foundation - an intensely pro-vaccine organization - is heavily invested in COVID-19 vaccine development and is a major sponsor of the four AstraZeneca trials for which data has so far been published. Additionally, many of the individual researchers have a vested interest in the results. Among just the authors of the 16 March 2021 NEJM paper;
Nicholas Durham is an AstraZeneca employee and currently holds AstraZeneca stock;
Elizabeth Kelly is an AstraZeneca employee and currently holds AstraZeneca stock;
Sarah Gilbert holds patents for ChAdOx1, licensed to AstraZeneca and Vaccitech;
Andrew Pollard has received funding from AstraZeneca and is a member of the Oxford Vaccine Group - the University of Oxford has entered into a partnership with AstraZeneca on coronavirus vaccine development;
Tonya Villafana has received personal fees from AstraZeneca;
Teresa Lambe reports personal fees from Vaccitech, and has a patent application for a SARS-CoV-2 (nCOV-19) vaccine pending;
Shabir Madhi (lead author) reports grants from the Bill & Melinda Gates Foundation (and Pfizer, GSK, Novavax);
Clare Cutland reports grants from Bill & Melinda Gates Foundation (and personal fees and 'other' from Pfizer);
Qasim Ebrahim Bhorat reports grants from Bill & Melinda Gates Foundation (and Regeneron Pharmaceuticals, GSK, Avillion, Sanofi, NovoNordisk);
Sutika Bhikha reports grants from the Bill & Melinda Gates Foundation;
Carmen Briner reports grants from the Bill & Melinda Gates Foundation;
Jeanine du Plessis reports grants from the Bill & Melinda Gates Foundation;
Elizea Horne reports grants from the Bill & Melinda Gates Foundation;
Lee Fairlie reports grants from the Bill & Melinda Gates Foundation;
Alane Izu reports grants from the Bill & Melinda Gates Foundation;
Aylin Oommen-Jose reports grants from the Bill & Melinda Gates Foundation;
Anthonet Koen reports grants from the Bill & Melinda Gates Foundation;
Gaurav Kwatra reports grants from the Bill & Melinda Gates Foundation;
Matt Laubscher reports grants from the Bill & Melinda Gates Foundation;
Masebole Masenya reports grants from the Bill & Melinda Gates Foundation;
Shakeel McKenzie reports grants from the Bill & Melinda Gates Foundation;
Andrew Moultrie reports grants from the Bill & Melinda Gates Foundation;
Asha Thombrayil reports grants from the Bill & Melinda Gates Foundation;
Faeezah Patel reports grants from the Bill & Melinda Gates Foundation.
I'm sure you'll excuse me for considering this lot anything but an independent, detached team with no vested interest in the results.
And then there's the pesky little fact that, away from its friendly-researcher-stacked clinical trials, the AstraZeneca vaccine has rapidly accumulated an abnormally large number of adverse event reports in a short amount of time. In the UK alone, between 4 January 2021 and 7 March 2021, the AstraZeneca COVID-19 vaccine has accumulated 61,304 MeDRA reports comprised of 228,337 adverse reactions and 289 fatalities.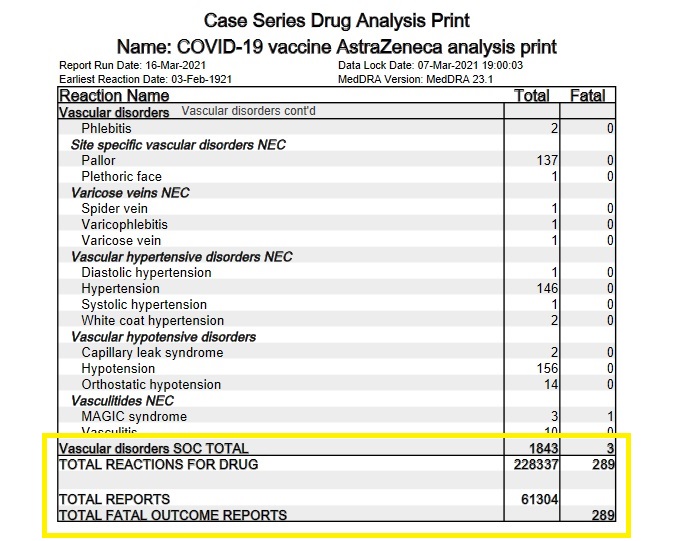 The European database of suspected drug reaction reports, EudraVigilance*, is also now tracking adverse event reports for the COVID-19 vaccines. As of 20 March 2021, EudraVigilance has recorded 80,642 adverse event cases and 592 deaths for the AstraZeneca COVID-19 vaccine. A week earlier, the corresponding figures were 54,571 adverse event cases and 451 deaths, so the drug's toll is rising quite rapidly. Here is the breakdown of the deaths by reaction type, as of 20 March 2021:
Blood and lymphatic system disorders: 20 deaths
Cardiac disorders: 78 deaths
Endocrine disorders: 1 death
Eye disorders: 1 death
Gastrointestinal disorders: 26 deaths
General disorders and administration site conditions: 244 deaths
Hepatobiliary disorders: 3 deaths
Infections and infestations: 53 deaths
Injury, poisoning and procedural complications: 4 deaths
Investigations: 6 deaths
Metabolism and nutrition disorders: 6 deaths
Musculoskeletal and connective tissue disorders: 6 deaths
Neoplasms benign, malignant and unspecified (incl cysts and polyps): 2 deaths
Nervous system disorders: 59 deaths
Psychiatric disorders: 3 deaths
Renal and urinary disorders: 8 deaths
Respiratory, thoracic and mediastinal disorders: 47 deaths
Skin and subcutaneous tissue disorders: 4 deaths
Social circumstances: 2 deaths
Surgical and medical procedures: 5 deaths
Vascular disorders: 14 deaths
After only two months on the market, this dubious drug was suspended from use in at least 16 countries after reports of normally rare blood clots in young and otherwise healthy recipients. The drug has since been reinstated in many of these countries after whitewashes by the WHO and the hopelessly dishonest European Medicines Agency.
This is despite researchers from Germany's Paul Ehrlich Institute noting "a striking accumulation of a special form of very rare cerebral vein thrombosis (sinus vein thrombosis) in connection with a deficiency of blood platelets (thrombocytopenia) and bleeding in temporal proximity to vaccinations with the COVID-19 vaccine AstraZeneca."
The WHO and EMA whitewash also occurred despite a Norwegian research collaboration concluding the link between the vaccine and serious clotting events was not coincidental but causal. Oslo Hospital University chief physician and professor Pål Andre Holme said the vaccine triggers an unexpected and powerful immune response, which triggers the formation of specific antibodies against blood platelets, which in turn results in abnormal bleeding and clotting reactions.
"Nothing but the vaccine can explain why these individuals had this immune response," said Holme.
When you hear authorities to try to brush all this off by claiming The Vaccine's Benefits Outweigh the Risks!™, just remember that none of the COVID-19 vaccines have been shown in double-blind clinical trials to save a single life.
US Authorities Express Concern Over AstraZeneca Trial Data
One entity that doesn't seem ready to go along with the WHO and EMA whitewashing is the US National Institute of Health's Data and Safety Monitoring Board (DSMB). A 23 March 2021 news release revealed the DSMB notified Fauci's NIAID, the HHS' Biomedical Advanced Research and Development Authority, and AstraZeneca "that it was concerned by information released by AstraZeneca on initial data from its COVID-19 vaccine clinical trial."
The statement continued:
"The DSMB expressed concern that AstraZeneca may have included outdated information from that trial, which may have provided an incomplete view of the efficacy data. We urge the company to work with the DSMB to review the efficacy data and ensure the most accurate, up-to-date efficacy data be made public as quickly as possible."
It seems AstraZeneca, which is seeking US "emergency use" authorization for its thromboembolic junk vaccine, provided selective and dodgey data in the clinical trial report they submitted to authorities in that country.
Conclusion
COVID-19 vaccine apologists will no doubt attempt to downplay these results, and say stuff like, "oh, but this lack of efficacy is only for the freakazoid South African variant, the original research shows it is still effective for the original woohoo Wuhan version."
While governments and their lamestream media buddies pretend that COVID-19 mutations are some sort of unprecedented "holy shit, lock down the world again!" event, the reality is that mutation among viruses is entirely normal and has been going on ever since there were viruses. Which is probably forever.
What this study really shows is that the only conditions under which corporate felon AstraZeneca has been able to demonstrate 'efficacy' for its COVID vaccine just happen to be those in which the researchers were not blinded and knew who was getting the company's drug.
In the only double-blind study published so far, the drug has not demonstrated efficacy.
A disturbing pattern is forming here.
As noted, the first AstraZeneca COVID-19 vaccine data that is double-blind shows no efficacy for the drug. The Moderna and Pfizer-BioNTech trials are classed as double-blind, and have claimed extravagant 95% efficacy figures, but there's a big problem: In the Moderna trial, numerous Moderna employees have "have unblinded access to the data," while in the Pfizer-BioNTech trial, three Pfizer employees are tasked with the job of "reviewing all potential COVID-19 illness events"!
All this strongly suggests any alleged COVID vaccine efficacy in clinical trials has little to do with COVID-19 variants and far more to do with interference from drug companies and researchers.
The AstraZeneca COVID-19 vaccine is a dodgey drug made by a dodgey company, relying on dodgey research to prop up a facade of efficacy and safety.
The other key takeaway from this study is that a mere 42 cases of mild-to-moderate COVID-19 occurred among 2,000 participants, and there were no COVID-related deaths or hospitalizations. Very low infection rates were also seen in the previous Lancet analysis, and in the Pfizer-BioNtech and Moderna mRNA drug trials. The main result I derive from this is that they should pack up this clown show immediately and let Planet Earth return to normal, but of course there are very powerful actors working relentlessly to ensure that doesn't happen anytime soon.
Stay sane,
Anthony.
If You Found This Article Helpful, Please Consider Leaving a Tip

This site is self-funded and relies on reader generosity. Researching and writing articles like this takes a lot of time, so any and all tips are greatly appreciated!